About Us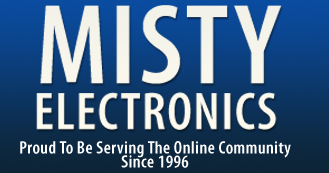 MistyElectronics has been selling online since 1996, and on eBay since 1998. I started selling on the old online discussion groups, USENET, kind of like the Craig's List of its time. In 1998 I joined eBay, and have been selling ever since.
To give you an idea on how long MistyElectronics has been selling, consider the following:
When I started selling, GOOGLE was still a year away from incorporating

Approximately 45 million people are using the Internet in 1996, with roughly 30 million of those in North America (9 million in Europe, and 6 million in Asia/Pacific (Australia, Japan, etc.). Estimates for today show there are over Three Billion internet users today


Dr. Ian Wilmut and his team clone the world's first sheep from adult cells. The lamb born in July 1996 is named Dolly

>


Record of the Year:"Kiss From a Rose," Seal
Album of the Year: Jagged Little Pill, Alanis Morissette (Maverick/Reprise)
Song of the Year: "Kiss From a Rose," Seal, songwriter

It's 1996, and you're bored. What do you do? If you're one of the lucky people with an AOL account, you probably do the same thing you'd do in 2009: Go online. Crank up your modem, wait 20 seconds as you log in, and there you are—"Welcome." You check your mail, then spend a few minutes chatting with your AOL buddies. Take a look at this youtube video of a 1996 AOL commercial

Then you load up Internet Explorer, AOL's default Web browser. Now what? There's no YouTube, Digg, Huffington Post, or Gawker. There's no Google, Twitter, Facebook, or Wikipedia. A few newspapers and magazines have begun to put their articles online—you can visit the New York Times or Time—and there are a handful of new Web-only publications, including FEED, HOTWIRED, SALON. and launched in June, Slate. But these sites aren't very big, and they don't hold your interest for long.

People still refer to the new medium by its full name—the World Wide Web—and although you sometimes find interesting stuff here, you're constantly struck by how little there is to do. You rarely linger on the Web; your computer takes about 30 seconds to load each page, and, hey, you're paying for the Internet by the hour. Plus, you're tying up the phone line. Ten minutes after you log in, you shut down your modem. You've got other things to do—after all, a new episode of Seinfeld is on.

Except for one thing, you can use your aol dial-up, and go onto alt.palmpilots. for sale use net newsgroup, and see an online posting from me selling a palm pilot, probably a palm pilot pro, boasting 128 k of memory. And you can buy it from me online, can't use PayPal though, that's years away, but you can get the same value and customer service that we are still providing, 22 years later.

Contact information
Address:


Mistyelectronics
311 North Ave
Unit 4329
Dunellen, NJ 08812